Calendars 2021
Marmatakis Editions | Τουριστικές και Ταξιδιωτικές εκδόσεις
Christmas and the New Year is a time for remembering past holidays and planning those in the year ahead.
What better gift, then, than one of our range of products featuring authentic photographs of the most beautiful places in Greece which bring the crystal-clear waters of the islands and the historic sites to life before you in a wonderful trip through the country and the seasons. Calendars vertically and horizontally in many dimensions, magnetic calendars and bookmarks.
Our 2021 Calendar comprises Impressions and views of Greece taken from an original angle to bring out their true beauty.  Combined with one of our picturesque packs of cards or fridge magnets it will make an ideal gift for friends, companions and business contacts – in fact anyone who loves Greece, bringing colour, light and warmth to the depth of winter. 

Every month and an image, a unique wandering in Greece

Please get in touch with us, so that we can inform you about our very favourable wholesale prices .

Magnetic
[ 8.0 Χ 8.0 ] Square [ 4.0 χ 16.0] Bookmarks
Spiral
[ 8.1 Χ 13.8 ] [ 11.0 Χ 22.0 ] [ 12.0 Χ 17.0 ] [ 17.0 Χ 24.0 ] [ 24.0 Χ 17.0 ] [ 25.0 Χ 21.0 ] [ 23.0 Χ 33.0 ] [ 33.0 Χ 23.0 ]
Wonderful Christmas Gifts from € 1.50

Combine Calendars with books or Cards to spend time dreamily and happily.
Beautiful Christmas gifts for your employees, partners or customers.

Wholesale Christmas Gifts
for Bookstores, Associations,Unions, Groups, Gift & Tourist Stores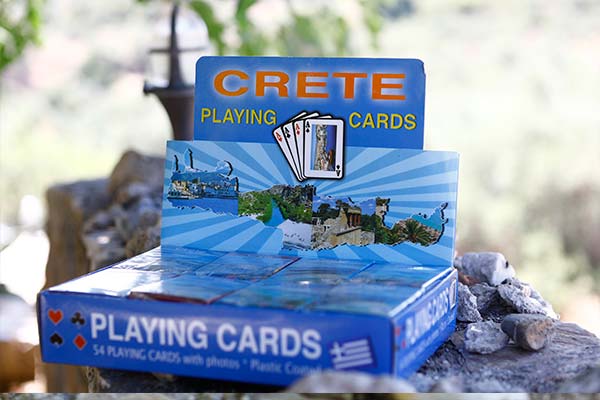 Box with 24 playing Cards
Time to play with friends and family.
Decorate your shop  with
unique photos from Greece
. The box with 24 playing cards is ideally,  for every store which selling seasonal and tourist items, bookstore, hotel, but also for unions and their members.
Only 25€ + Shipping Cost

I 'm Intersted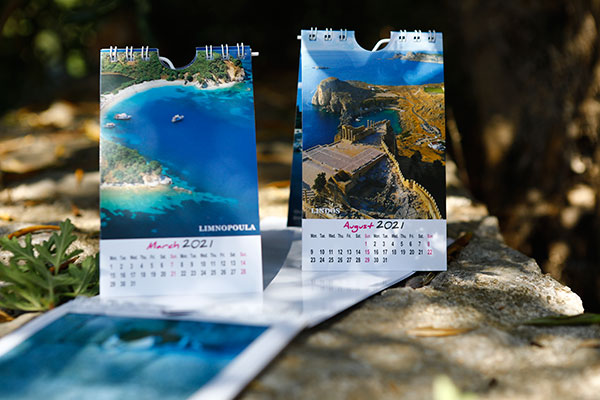 Combine a Book with a Calendar
Every month a wonderful image, a unique wandering in Greece.
Choose Calendars and Cookbooks to pass the time deliciously ...
Combine Calendars with History Books to pass the time magically...

Calendars Cost: from € 1.50
Book Cost: from € 4.90

+ Shipping Costs
I'm Interested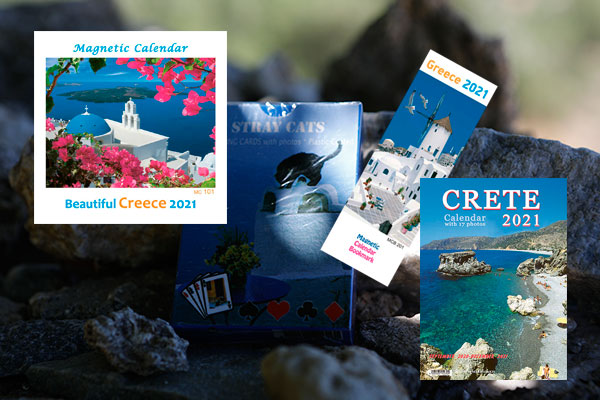 Calendar and Playing Cards
Combine Calendars and Cards.
A beautiful and economical, decent Christmas present.
To spend the days of the year happily playing.
Cost of Calendars from: 1.50 €
Plaing Card Cost: € 1.50

+ Shipping Costs
I'm Interested
Business Gifts
Combine a Calendar with a Pack of Cards or Fridge Magnets or choose from our wide range of Tour Guides covering the whole country to make a gift that will really make a mark.